Resource Library
Mobile Resource Library Tabs
Content with Target Audience Professionals .
Resources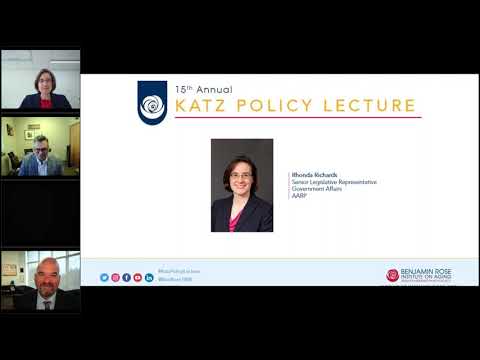 15th Annual Katz Policy Lecture: National Family Caregiving Strategies and Policy Recommendations from the RAISE Family Caregiving Advisory Council
This year, the 15th annual Katz Policy Lecture, sponsored by AARP Ohio, will examine the RAISE Family Caregivers Act, which directs the U.S. Department of Health and Human Services to develop and maintain a national strategy to recognize and support family caregivers. The Act identifies actions that communities, providers, the government and others are taking to help family and friend caregivers, and aims to improve information sharing, collaboration, government support and assessment of caregiver programming across these efforts. Our keynote speaker, Alan B. Stevens, PhD, will discuss family caregiving strategies and policy recommendations from the RAISE Family Caregiving Advisory Council, and the impact these will have on our communities. Following our keynote speaker, a reactor panel of industry experts will give their responses to the presentation, and discuss how the Act impacts different types of individuals and communities, as well as state level policy.
Watch
Home Health CAHPS FAQs: Understanding the CAHPS Rating
In 2016, CMS added the Star Rating System to the information presented on the Home Health Compare website. This visual element is designed to make it easier for consumers to compare providers, but the methodology behind the Star Ratings can be a little difficult to understand. To help clarify, we've developed a list of Frequently Asked Questions to provide answers to some of our most common inquiries. 
Read More
Orsulic-Jeras, S., Nicolay, S., & Kane, C. (2019). TRAINING SENIOR VOLUNTEERS TO IMPLEMENT A GROUP MUSIC INTERVENTION FOR PERSONS WITH DEMENTIA. Innovation in Aging, 3(Supplement_1), S662–S662. https://doi.org/10.1093/geroni/igz038.2452
Maslow, K., Bass, D. M., & Rentsch, J. (2021). Update on the status of effective programs to help dementia family caregivers in the U.S.: Observations from the search for programs to include in Best Practice Caregiving. In J. Gaugler (Ed.) Bridging the Family Care Gap, 247–300. https://doi.org/10.1016/B978-0-12-813898-4.00008-7
Carlisle, G. K., Johnson, R. A., Koch, C. S., Lyons, L. A., Wang, Z., Bibbo, J., & Cheak-Zamora, N. (2021). Exploratory Study of Fecal Cortisol, Weight, and Behavior as Measures of Stress and Welfare in Shelter Cats During Assimilation Into Families of Children With Autism Spectrum Disorder. https://doi.org/10.3389/fvets.2021.643803