Resource Library
Mobile Resource Library Tabs
Content with Topic Health and Wellness Services .
Resources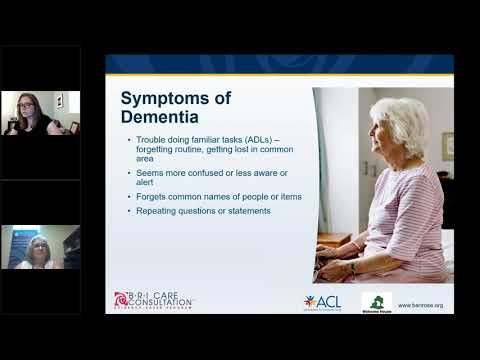 Caring for Individuals with Intellectual and Developmental Disabilities and Dementia
This webinar will overview common signs and symptoms of Alzheimer's Disease and related dementias in individuals with intellectual and developmental disabilities, available cognitive assessments, medical and community-based resources, and provide information about a free evidence-based care-coaching program, BRI Care Consultation™, for family and friend caregivers or supporters.
Watch
By Lauri Scharf, Kirsten Fawcett-Dubow | 07/07/2021
5 Tips to Prepare for a Conversation with Your Doctor About Dementia
Suspecting that you are suffering from memory loss can feel terrifying. When there's a chance the answer to your symptoms may be "dementia," it may seem tempting to avoid even asking the question. However, a missed or delayed opportunity to diagnosis dementia can have long-term consequences. Though confronting the possibility of dementia can be hard, an early diagnosis can make preparing for the future easier both on you and your loved one.
Read More
By Julie Hayes | 06/15/2021
Why Being Watchful for Signs of Malnutrition in Older Adults Matters
Malnutrition is most simply defined as a nutritional imbalance that can potentially affect any person, regardless of weight. Chronic health conditions combined with inadequate nutrition can often negatively impact older adults and prevent their bodies from absorbing the nutrients they need for healthy aging. Depression; social isolation; mental health challenges; embarrassment; lack of food; functional changes that limit the ability to shop for, prepare or even eat food; and financial struggles further increase the risk for malnutrition.
Read More
By Lisa Weitzman | 04/15/2021
5 Tactics to Help Improve Your Home Health CAHPS Rating
There's a reason that positive customer reviews are very important to home health agencies—many households seeking in-home health care services rely on published accounts to guide them in selecting the agency they feel will be the best fit for their situation. 
Read More
By Michelle Palmer | 03/15/2021
How Caregiver Support Can Combat Rising Stress Levels
We all know that caregiving for a loved one can be stressful, but it seems that caregivers may be feeling the strain more than ever before. Nearly two-thirds of family and friend caregivers consider their situation to be moderately-to-highly stressful, according to the recently released Caregiving in the U.S. 2020 report from National Alliance for Caregiving and AARP.  
Read More
By Michelle Palmer | 03/15/2021