Resource Library
Mobile Resource Library Tabs
Content with Topic Elder Abuse .
Resources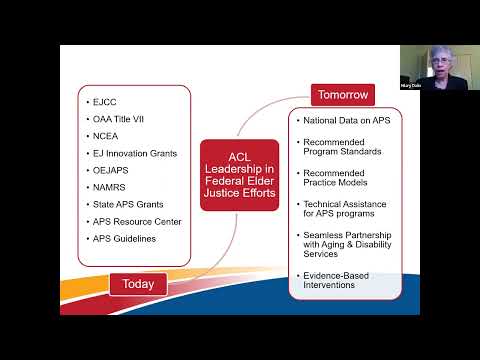 Elder Justice Innovations: Helping Individuals Transition from APS to other Community-Based Supports
Benjamin Rose Institute on Aging is committed to highlighting the important Elder Justice work being implemented across the country. Presented in partnership with the Elder Justice Coalition, attendees heard from the Administration for Community Living about the 2021 Elder Justice Innovation Grants. A select group of grantees discussed their work focused on the various community services that help individuals transition from short-term adult protective service programs to community services in their area to prevent the recurrence of abuse.
Watch
By Hilary Dalin, Traci Lee, Farida Ejaz, Marian Liu, Zachary Hass, Joy Solomon, Kavita Ahluwalia | 01/27/2022
Breaking Down the Seven Types of Elder Abuse
Caregivers play an important role in protecting not just a loved one's health, but their overall safety and wellness as well. According to the National Council on Aging, one in 10 Americans age 60 and older are the victims of elder abuse, but only around one in every 24 cases of abuse is reported. In cases when a loved one is unable or even unwilling to report, caregivers may be the person in the best position to get help. However, it can be hard to identify the problem if we are unfamiliar with the types of actions that qualify as abuse.
Read More
By Julie Hayes | 12/15/2021
Recognizing the Risks and Red Flags of Elder Abuse
Those who are assisting older loved ones likely try to do everything they can to keep that loved one safe, such as making sure they have a list of emergency contacts or assessing whether they can still safely operate a vehicle. However, sometimes the greatest threats to a loved one can be a person, whether family members, fellow caregivers, medical staff, complete strangers or even themselves. According to the National Council on Aging, approximately one in ten Americans aged 60 or older have experienced some form of elder abuse.
Read More
By Julie Hayes | 07/15/2021
Ejaz, F., Rose, M., & Reynolds, C. (2020, August). Research to Practice (R2P) Series Brief: A Novel Intervention to Identify and Report Suspected Abuse in Older, Primary Care Patients. National Adult Protective Services Association. https://www.napsa-now.org/wp-content/uploads/2020/08/R2P-Brief-A-Novel-Intervention-to-Identify-and-Report-Suspected-Abuse-in-Older-Primary-Care-Patients.pdf
Ejaz, F. K., Rose, M., Reynolds, C., Bingle, C., Billa, D., & Kirsch, R. (2020). A Novel Intervention to Identify and Report Suspected Abuse in Older, Primary Care Patients. Journal of the American Geriatrics Society, 68, 1748–1754. https://doi.org/10.1111/jgs.16433