Resource Library
Mobile Resource Library Tabs
Content with Target Audience Professionals .
Resources
Chen, L., Ye, M., & Wu, Y. (2020). Shaping identity: Older adults' perceived community volunteering experiences in Shanghai. Nonprofit and Voluntary Sector Quarterly. https://doi.org/10.1177/0899764020911205
Curl, A., Bibbo, J., & Johnson, R. A. (2020). Neighborhood Engagement, Dogs, and Life Satisfaction in Older Adulthood. Journal of Applied Gerontology. https://doi.org/10.1177/0733464820953725
Ejaz, F., Rose, M., & Reynolds, C. (2020, August). Research to Practice (R2P) Series Brief: A Novel Intervention to Identify and Report Suspected Abuse in Older, Primary Care Patients. National Adult Protective Services Association. https://www.napsa-now.org/wp-content/uploads/2020/08/R2P-Brief-A-Novel-Intervention-to-Identify-and-Report-Suspected-Abuse-in-Older-Primary-Care-Patients.pdf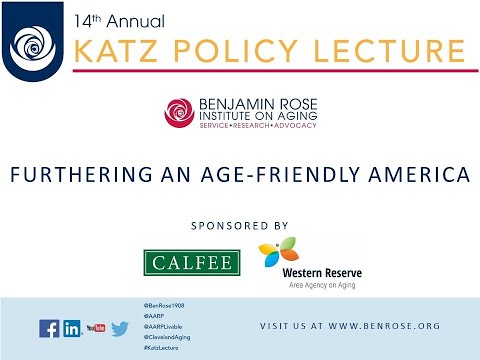 Furthering an Age-Friendly America
The 14th Annual Katz Policy Lecture from Benjamin Rose Institute on Aging was held October 29, 2020. Keynote speakers, Bill Armbruster, Senior Advisor of AARP Livable Communities, and Mary McNamara, Director of the Cleveland Department of Aging, discussed age-friendly communities, including work developing nationally and in the Cleveland-area. The webinar introduced the Age-Friendly Network, outlined the importance of age-friendly communities to support individuals aging in place, and discussed the connection between age-friendly and dementia-friendly communities. Panelists discussed ongoing work and future directions to make Northeast Ohio age-friendly.
Watch
Building and Supporting Dementia-Inclusive Communities
According to the World Health Organization, an estimated 50 million people are living with dementia worldwide. To combat the impact that dementia has on people living with the disease and their caregivers, the Dementia Friendly America initiative was launched to create communities where everyone could provide support and understanding to these individuals. The initiative aids the residents who are living with dementia and their caregivers in the community by raising public knowledge about the disease, supporting people living with dementia and their caregivers and connecting health systems with community-based organizations.
Read More