Resource Library
Mobile Resource Library Tabs
Content with Topic Dementia .
Resources
Franz, C. (2021, October 15). Tips to Ease Communication with Someone Who Has Dementia Guideposts. https://www.guideposts.org/caregiving/family-caregiving/advice-for-caregivers/tips-to-ease-communication-with-someone-who-has-dementia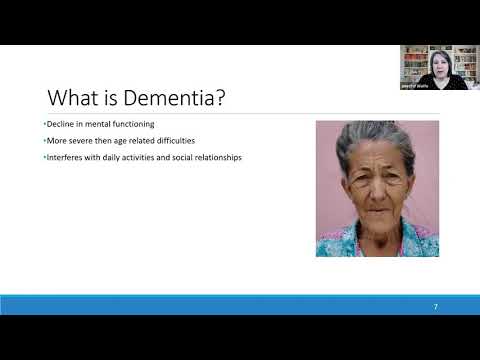 Behavioral Interventions: When Caring for Someone with Dementia
Behavioral Interventions: When Caring for Someone with Dementia incorporates the most current research about dementia care, effective practical strategies, and useful resources in identifying causes of common behavioral symptoms and effective interventions.
Watch
By Jennifer Wolfe, Lyndi Winzeler | 03/29/2022
Preparing for Your Future After an Early Onset Dementia Diagnosis
A diagnosis of dementia can be devastating no matter your age. However, older adults, especially those over the age of 65, tend to be more aware of the possibility of dementia, and know that their risk statistically increases each year. But for younger adults, being diagnosed with dementia between the ages of 30 and 60 is not only upsetting—it can be outright shocking.
Read More
By Julie Hayes | 03/15/2022
Your Loved One Receives a Dementia Diagnosis: Now What?
You've worried, wondered, and second-guessed. You may be scared and nervous. Now you find yourself in the doctor's office with your loved one. Following multiple assessments and a battery of tests, all things point to a diagnosis of dementia. Your emotions race everywhere. At first, you may be shocked or frightened – and maybe even a little relieved to have answers or explanations. Ultimately, even though you admit to having seen signs and symptoms for some time, the official diagnosis can leave you feeling unprepared and confused about what to do next.
Read More
By Cathy Franz | 03/15/2022
What to Know About Dementia Screening and Assessment Tools
If you're a family member, friend or caregiver who suspects a loved one might have dementia, it's important to know about cognitive screening and assessment tools. Since there is no one biological marker or blood test to pinpoint dementia, cognitive tests help doctors evaluate the state of your loved one's memory, recall, language recognition and ability to follow instructions. If you plan to bring your loved one to a doctor, a combination of tests may be used to screen your loved one for dementia. And, if you are hesitant to consult a doctor just yet, many of these tests include questions that you can try asking your loved one yourself to help you confirm your suspicions. 
Read More
By Julie Hayes | 02/15/2022