Resources
Mobile Resource Library Tabs
Content with Topic Active Aging .
Resources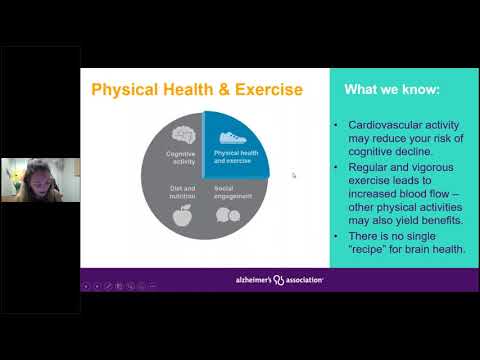 Healthy Living for Your Brain and Body: Tips from the Latest Research
For centuries, we've known that the health of the brain and the body are connected. But now, science is able to provide insights into how to make lifestyle choices that may help you keep your brain and body healthy as you age. Join us to learn about research in the areas of diet and nutrition, exercise, cognitive activity, social engagement, pharmacological treatments, and use hands-on tools to help you incorporate these recommendations into a plan for healthy aging. Lastly, you will learn from Benjamin Rose Institute on Aging about an evidence-based care-coaching program, BRI Care Consultation™, that is available for free in Cuyahoga, Athens and Washington Counties to support individuals with, or at risk of, dementia, including individuals with intellectual and developmental disabilities, and their caregivers.
Watch
By Polly Mytinger | 09/23/2021
Creative Arts Programming for Older Adults
Finding meaningful ways to engage with an older loved one can be a challenge, especially during the pandemic. For those looking for an activity to do together with a loved one—whether indoors or outdoors—creative arts may be a good place to start! Helping a loved one get in touch with their creative side can offer many benefits and may be easier to do than we think. 
Read More
By Ashlee Cordell | 09/15/2021
Exercise Your Brain as an Older Adult with These 20 Memory Boosting Activities
There are a variety of techniques and strategies older adults can use to maintain and even improve memories. These memory boosters are mentally challenging and often fun, and they don't involve medications that may have side effects that could potentially exhaust mental focus.
Read More
07/15/2021
Social Isolation and the Holidays During the COVID-19 Pandemic
Isolation has been a common theme of the COVID-19 pandemic. From the early days, we were encouraged to "socially isolate," and while doing so is challenging for many of us, it is still considered to be a positive action for the good of our communities. But social isolation has a negative side, one that has existed long before the pandemic.
Read More
By Tamar Cooper and Kerstin Yoder | 12/15/2020
4 Tips to Help Older Adults Stay Active Indoors in the Winter
This winter will be an atypical one in many ways due to the COVID-19 surge limiting our ability to get outside, along with the usual concerns of cold and flu season and severe weather. However, even during more traditional winters than this one, the temptation to stay in bed and hibernate like bears until the warm weather comes back is hard to overcome. After all, when "the weather outside is frightful," what's better than relaxing in front of a delightful fire?
Read More
By Julie Hayes | 12/15/2020